Sightseeing

You can combine your stay at our hotel with a visit to the ancient theater of Epidaurus (35km) for an evening show (July and August) or to visit Nafplio which is just one hour away, ancient Corinth (25km), Loutraki, Heraion or Mycenae, which are very close.
Even a walk in the mountainous villages of Sofiko and Aggelokastro, where you can spend a day at the ranch as a true cowboy or visit the folk art museum, admire old churches such as Panagia Steiri (dated to the 11th century) and castles of great historic importance.

For hikers, the hiking clubs of Corinth organize hikes with the most famous 4km Sofiko - Korfos trail, where through the pine forest of Papadia, we meet old monasteries and after-Byzantine monuments and we end up in the Agia Triada (Holy Trinity).

If you are a sea lover and fishing lover, the lacy beaches and the wide variety of fish (sea bream, seabass etc) offer many hours of relaxation.
Along the CorinthianGulf, many nearby beaches are worth visiting, such as Lake Vouliagmenis, Strava and Loutraki with clear waters and quite organized.

On the Saronic side, Agioi Theodori is a small coastal town combining the beauties of the mountain with the joy of the sea.

On the way to Epidaurus, the beach of the OraiaEleni, known for its thermal baths, is ideal for arthritis and rheumatism.

Kiato with its clean and organized beaches is a good choice.

The beaches of Kechrion and Almiri are worth visiting.

After the Isthmus, you will spend beautiful moments in the beaches of the villages: Lecheo, Kokkoni, Nerazza, Kato Diminio, Melissi, Pefkias, Lykoporia and Derveni where the clear waters and the scenery will enchant you.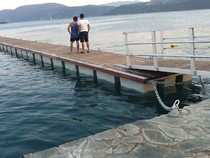 Floating platforms in Korfos already serve sailboats and pleasure boats and allow visitors to come from the seaside as well.
And for the end, walks along the bay scenic taverns and trendy cafes complete the image of a traditional but also contemporary destination that does not have to envy other seaside destinations.
The hotel is following all the hygiene protocols for covid 19.
For summer 2021 in order all of us to be safe,
we offer only accommodation and breakfast served in the room.
Also, the swimming pool will be closed.